Painting with light
Subject: Julie Skelton, a photographer who lives in Guildford, Surrey. Julie is married with three children.
Age range: 40-50 years.
Interests: Music, handicrafts, baking.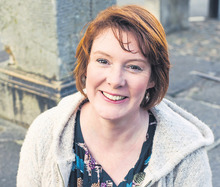 RJL: How did you become a Christian?
Julie: I come from a Christian home. When I was 14, I went on a young people's weekend to Perthshire and on looking at what God has created, I realised that he had created me. On my return home I asked Jesus to be Lord of my life.