So you have no children?
Pastor's wife, Tracey Richards, shares her story
Tracey Richards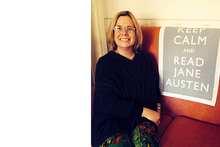 We had known much excitement in the week and a half of moving to Marlow.
It was October 1998. We had been married for three years and we were excited by the new opportunity to minister to God's people in our first pastorate. All these joys and prospects were magnified by the fact that I was pregnant with our first child. We both wanted children very much.
Before leaving for our first church meeting I felt a sudden sharp pain in my abdomen. Hoping that the pain would pass I continued to get ready to leave, but the pain only became worse and more intense.
Life shattered
My husband, Evan, went alone to the meeting, which left us both feeling disappointed and sad.
On arriving home and discovering my worsening condition he rang the doctor. Eventually I was admitted to hospital and rushed to an operating theatre within an hour of losing my life.
I woke up to find the world still intact but my life totally shattered. Our baby had been taken. Psalm 139.15-16 says: 'My frame was not hidden from you, When I was made in secret, And skilfully wrought in the lowest parts of the earth. Your eyes saw my substance, being yet unformed. And in your book they all were written, The days fashioned for me, When as yet there were none of them.' These words came flooding into my mind and I felt a deep peace comfort me. But I remained in shock! Life from now on would never be the same.
My frightening ordeal had been the result of experiencing an ectopic pregnancy, which is a life threatening condition that requires emergency surgery.
Coming to terms with losing a child is a devastating grief. No parent wants to outlive his or her child. Nothing can prepare you for the pain and emptiness you experience or the effect it can have on you as a couple.
A couple of years after losing our baby we went through a series of tests at the hospital which clarified our concerns and fear. We were faced with the harsh reality that no other children would follow.
Hope beyond no children?
We found that many people struggled to cope with our disappointment. Some encouraged us not to lose hope; perhaps other babies would follow. Some just assumed that because we were married we must have children and if we didn't it was because we chose not to.
2 Peter 1.3 says that God has given us all that is needed for life and godliness. Being in the ministry has often added pressure in dealing with our childless state. How do we identify with parents and their children? How do we make a difference in the lives we are seeking to serve? As we prayed through the implications of 2 Peter 1.3 we understood the answer. It is God's Word and grace that enables us to live and work for his glory, no matter what we are confronted with.
The Lord's comfort
We do find certain things difficult. Even to this day being told by someone that they are having a baby is like experiencing the pain of having a giant knot in our stomachs while at the same time rejoicing with the excited parents to be. Pastoring young people who marry and go on to have children stirs a mixture of emotions, observing lives which seemingly move on while ours remains the same. Anniversaries and birthdays can be trigger points of sadness too. With each passing year we wonder what our child would have been like and what interests they would have been pursuing. We need God's grace.
Psalm 103.14 says: 'For he knows our frame; he remembers that we are dust.' Throughout the years we have experienced the Lord's sympathetic comfort and grace. We have had opportunities of consoling parents who have lost a child. We have also been able to enter into the pain of others, both married and single, who have not been able to conceive and have a family. Our pain has not been for nothing. 'Blessed be the God and Father of our Lord Jesus Christ, the Father of mercies and God of all comfort, who comforts us in all our tribulation, that we may be able to comfort those who are in any trouble, with the comfort with which we ourselves are comforted by God' (2 Corinthians 1.3-5).
The journey
Childlessness is a journey, which has to be travelled to learn the benefits and also to be aware of the stumbling blocks.
What are the benefits? Well, we have learned to look to eternity as a reality. David once said of his lost child: 'I shall go to him, but he will not return to me' (2 Samuel 12.23). Then from our experience we have learned to be sensitive towards others who struggle with not having children, married or single. Also, not having children, has freed us as a couple to work alongside each other in the church.
What are some of the stumbling blocks? First, there is misunderstanding. Losing a baby during pregnancy is often seen as nature's way of saving us from greater pain. People wrongly assume the baby had some abnormality or defect. Second, there is, sometimes, the difficulty of finding a sympathetic ear. We still hear comments like a bland 'God knows best' or 'You probably would have struggled had God given you children'.
I once read something which was a great help to us. Amy Carmichael gives a meditation on Philippians 1.6: 'Being confident of this very thing, that he who has begun a good work in you will complete it until the day of Jesus Christ.' She spoke of God's fingers moulding our lives and putting finishing touches on them to make us what he planned for his glory. God only has our best good interest at heart. This is what Amy Carmichael wrote:
These finishing touches often come through the sweet joys of life, but they come too, through the tiny trials, the little disappointments, the small things we hardly like to speak about, and yet which are very real to us. Let us learn of them as the touches of his fingers – 'the finishing touches'.
A different kind of mother
Psalm18.20 says: 'As for God his way is perfect.' What I have told you so far is not the end of my story.
2012 was a very significant year! In 2004, I had been diagnosed with a chronic neck and back condition. By 2012, this condition became debilitating and I found myself in a dark and frightening place. My career as a nursery nurse came to a sudden and abrupt end. As a result, many uncertainties filled my heart and mind.
I had prayed the prayer 'Lord I do not want to remain as I am', for some time. Was this weakness God's answer to my prayer? During mid-2012 the church in Portsmouth, where my husband is now the pastor, saw an increase of Chinese students.
Unknown to me at the time, God was at work in opening a door of opportunity for ministry. This ministry became God's way of bringing his gracious consolation and healing. The new students took to us. Our house became a home where joy and love were exchanged. Psalm 113.9 says: 'He gives the barren woman a home, making her the joyous mother of children. Praise the Lord!'
I had precious time given to me to spend befriending and extending hospitality to many internationals, many of which were Chinese. Some of these have since believed, grown and matured in the Lord, and become spiritual daughters.
After finishing their studies and employment in the UK two of them came to live with us and shared our home and lives with us before they returned to China.
This broadened our love and experience of Christ. Through God's gracious kindness I can rejoice in hope and marvel at his blessing and grace. How true the old hymn has proved:
When through the deep waters I call thee to go, The rivers of sorrow shall not overflow;
For I will be with thee thy trouble to bless, And sanctify to thee thy deepest distress.
Tracey Richards is married to Evan, pastor of Grace Baptist Church, Portsmouth, which meets in Copnor Road. www.gbc-portsmouth.co.uk 07922 179274