Speaking up
This excellent book is for the ordinary reading Christian.
Chris Bennett,

pastor of Wilton Community Church, N. London, and lecturer in Preaching and New Testament at London Theological Seminary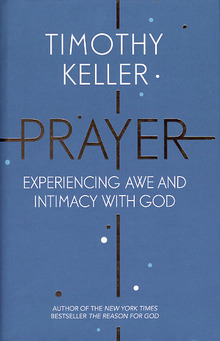 PRAYER
Experiencing awe and intimacy with God
By Timothy Keller
Hodder & Stoughton. 321 pages. £16.99
ISBN 978 1 444 750 157
It is excellent, firstly because it is comprehensive. Unlike nearly all the other works on prayer, it is theological and experiential and methodological. Keller freely acknowledges that many writers have done better than he on different aspects of the subject, but we all need an up-to-date book that covers all the ground.
Secondly he deals fascinatingly and satisfyingly with the balance or tension between the mystical/emotional and the intellectual in prayer. Quite a bit of time is spent examining different approaches and evaluating them. Contrary to what some anti-Keller websites have suggested, he is not a mystic in the sense of undervaluing the mind and the place of the word of God in prayer. He comes out more or less where John Owen, John Murray and J. I. Packer do: 'wordless prayer is not the pinnacle… but the periodic punctuation of verbal prayer' (Packer with Nystrom).
Thirdly he links praying with listening to God as he speaks in his Word, and gives useful advice. Prayer is 'fellowship with the personal God who befriends us through speech'. In this connection he gives plenty of advice on how to meditate on the Word, some of it drawn from Martin Luther's great little letter to his barber on prayer. It's in the same vein as George Mueller's famed advice on integrating Bible reading and prayer.
Deeper encounter
He also distinguishes helpfully between prayer as fellowship with God and prayer as intercession that seeks kingdom advance (if anything, in terms of practical advice, he's a bit stronger on the fellowship-seeking prayer than the kingdom-seeking – but these are spots on the sun). He also shares about his own much deeper encounter with the Psalms and with God leading him to pray more, in both these ways, about 13 years ago – if you want to know why you should understand, love and use the Psalms, read this book!
And perhaps best of all, every part of the book breathes the fact that this man, who has such an active, successful and highly-esteemed speaking ministry believes – really believes – that the most important activity he engages in is not that, but something every one of us can do: pray to the Father in the name of Jesus and the empowering of the Spirit.