Charity begins at home
Subject: Linden Sanders, Operations Director for Fegans. He is married with two children and lives in Crowborough, East Sussex.
Age range: 30–40 years.
Interests: Football, tennis, surfing, good wine – he is a Francophile.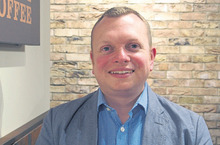 RJL: How did you become a Christian?
Linden: I was brought up in a Christian family; I have one brother and one sister. When I was 11 years old I made my personal commitment to Christ at a Spring Harvest youth meeting following a very clear gospel presentation – suddenly it all made sense!