Egypt: maltreated convert
Bishoy Armia Boulous, an Egyptian convert to Christianity who is currently serving a prison sentence, is being mistreated in prison, it was reported in mid-December.
Christian Solidarity Worldwide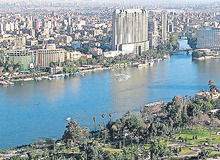 Bishoy Armia Boulous, formerly known as Mohammed Hegazy, is being held in Tora Prison, Cairo. His lawyer has said that Mr Boulous is being held in solitary confinement in a cell designated for those awaiting capital punishment. Prison staff are abusing him verbally on account of his religion and are also abusing him physically, including breaking his glasses and making him walk barefoot to hearings in Minya Misdemeanour Court. There are unconfirmed reports that Mr Boulous has begun a hunger strike in protest at his detention and maltreatment.