Carey: too comfortable?
'Afflicting the comfortable' could be taken as the keynote of this year's Carey Conference held at the Hayes, Swanick, 6-8 January.
JEB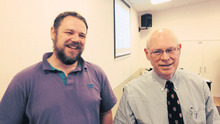 The main speaker was Professor Greg Beale of Westminster Theological Seminary, Philadelphia. He is the author of a landmark and voluminous commentary on the Greek text of the book of Revelation and he treated the participants to a magisterial introduction to John's apocalypse. The book is meant to be understood symbolically, according to its opening verse. The dramatic word pictures of the apostle will sedate the nominal Christian but shock God's true people into action. There are seven churches addressed in the opening chapters of which only two are faithful. The others must change or be judged with the world. Hence John's writing is addressed first to the whole professed church, but only the faithful remnant will ultimately benefit.