BUILDING UP BOURNEMOUTH
'We shape our buildings and afterwards our buildings shape us.'
Lansdowne Baptist Church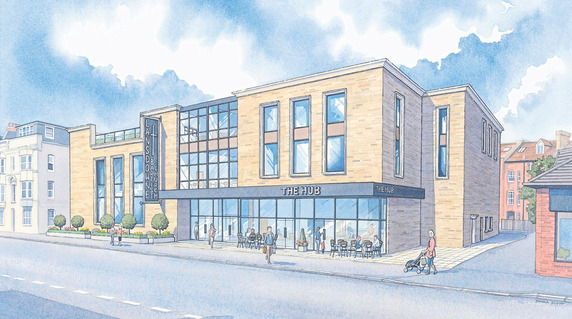 So said Winston Churchill defending the adversarial nature of the House of Commons debating chamber. The same could be said of our church buildings. They are monuments to the era in which they were built and reflect its values.
Take the Victorian chapel which has been home to Lansdowne Baptist, Bournemouth, for 138 years. No street-level windows giving so much as a hint to passers by of what's going on inside. It was a building originally designed to be open only for one day a week. A small vestibule makes a comfortable welcome challenging. It leads to aisles too narrow for pushchairs, wheelchairs and buggies. A three-sided balcony is reached by way of a winding staircase. At the end of the service there is limited chance of a meaningful meeting with anyone below, in the melée to exit.
There is a grand pulpit, of course. Forbiddingly high, far more than the six feet above proverbial contradiction. And, stretching out beneath the preacher's gaze, row upon row of uncomfortable wooden pews, even with cushioned runners.
The whole edifice appears built to dissuade the worshipper from overstaying his or her welcome and makes a sense of community and corporate praise difficult.
Change on the way
But over the next two years dramatic changes are on the way. The church building and its many adjacent rooms, including the betting shop purchased in the 1980s and made into an office block, is being demolished.
In its place, God willing, a £3million multi-purpose, 1000-seater auditorium will emerge. A large entrance area, wide staircases and lifts to all three levels, will connect a sports hall and fitness suite, ground floor coffee shop, seminar rooms, library, offices, media suite and an open air, third floor, terrace lounge.
The concept has been a long time in the making, but the decision was finally made in 2013. In November of that year the church backed the vision, having ruled out renovation or relocation, by giving or pledging £2.3 million on a single Sunday – confirmation that the Lord was building his church.
In Lansdowne for good
The Building Project Group was given permission by the members to dream and the strapline 'In Lansdowne for good' reinforced the church's long-term commitment to stay in the area, which is a short walk from Bournemouth pier, gardens and town centre.
Yet the building design also reflected the location as a growing residential community, full of internationals, surrounded by shops, restaurants, high-rise offices, local businesses and the accommodation blocks of Bournemouth University Lansdowne Campus.
Demolition is due to begin this summer. If all things go to plan the new Lansdowne building should be ready in early 2017.
Mission fields
These are the mission fields the church aims to reach out of a contemporary facility.
It's said that people give to vision. And the vision presented over several months of consultation was of much more than a building. It was of the growth of a gospel community. A place where people could gather to scatter in missional hubs. The church as a preaching centre, to which people travelled, would be replaced by a strategic flagship and community for Christian mission. Discipleship training and equipping for evangelism are becoming the new buzz words.
People also gave out of a desire to leave a legacy for future generations, who would benefit from the sacrifice of the present one.
Projects of this scale are the product of the right people in the right place at the right time. In Lansdowne, the Lord put together a group of individuals, including the arrival of staff team leader and senior minister, Peter Baker, several months before the project launch. Here was a team who could carry the vision forward at several levels at once.
Peter Baker said: 'Looking back, never has a Baptist church agreed to and supported so much change in such a short amount of time and with such unity!'
Without walls
So the church will embark this year upon an era they are calling 'Lansdowne Without Walls'. The need to find multiple temporary venues for its range of activities has been solved in part by Lansdowne assuming responsibility for Strouden Park Chapel. This church, in another part of Bournemouth, was keen to enter into a partnership to replant the gospel in that community. The merger took place in January 2015.
Such a vision to resource other evangelical churches and establish satellite congregations was one the Lansdowne leadership was positive about. It was the timing which took them by surprise. However, the provision of a building to accommodate 500 on a Sunday morning, in multiple services, and eventually to leave a vibrant congregation behind, was an adventure not to be missed.
So, later this year, Lansdowne is becoming one church in different locations. It plans to organise several congregations across the conurbation, retain a Sunday presence in the Lansdowne area, develop its midweek children's and youth programme in a sports centre and its toddler and homeless ministry in a local Anglican church.
Such is the vision of one evangelical church on the South Coast. Let's hope that mission, not the maintenance of a building, is the shape of things to come.