Childish God
From acclaimed veteran director Ridley Scott comes the latest cinematic take on Biblical source material. As a film, Exodus: Gods and Kings is an often heavy-handed epic, which nonetheless becomes powerful filmmaking when it gets going. The visuals are impressive and the 3D adds depth.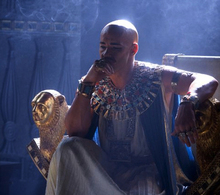 EXODUS: GODS AND KINGS
Director: Ridley Scott. Cert: 12A. 150 mins
Most supporting characters get little screentime (suggesting the existence of a longer Director's Cut, as with Ridley Scott's earlier epic Kingdom of Heaven), the likes of Indira Varma as a supercilious High Priestess and Ewen Bremner as an 'Expert' who tries to explain away the plagues provide entertaining supporting turns.
Atheist distortions
This film, as well as Ridley Scott's own Prometheus and Darren Aronofsky's Noah, could be seen as an example of an atheist filmmaker wrestling with questions of doubt and faith. There are quite a few changes to the events as described in the Bible and it looks at the narrative in largely human terms, with the focus on the complicated relationship between the two brothers (by adoption), Moses (Christian Bale) and Rameses (Joel Edgerton). Most controversially, the way in which God appears to Moses is represented as an opinionated child.
There's a comment about how the very name 'Israelites' means 'those who wrestle with God', and the film (and its protagonist Moses specifically) wrestles with things like suffering, evil and God's judgment. Ultimately, though, the film makes sense of the tension between God as righteous Judge and God as gracious Redeemer, by showing that 'God opposes the proud, but gives grace to the humble' (James 4.6). The exodus is a story of God delivering his people from slavery and oppression.When giving instructions for the Passover, Moses says something like: 'If I'm wrong, pity the lambs. If I'm right, we'll bless them for eternity'. This points to Jesus, the Lamb of God, who laid down his life for sinners. The scenes depicting the plagues may be upsetting to watch for some viewers.