Georgia: a tense country
The city of Gori is located in the centre of Georgia and has a population of approximately 55,000. It was one of the most violent and corrupt cities in the Russian Empire and it was the birthplace of Josef Stalin.
en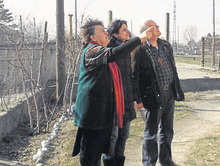 Today, Gori is a poor city with high unemployment, living with the memory of invasion by the Russian army in 2008 which left many dead. The current situation in Georgia is tense. It was the first country to experience Russian occupation of part of its territory on the excuse of liberating 'Russians'. Attempts to undermine the local economy are ongoing so as to draw it back under Russian hegemony. The events in Ukraine and Maldova are watched with anxious eyes.