Asia: God intervenes
A wonderful present-day double miracle was reported in November by an organisation that reaches out to the many unreached people groups across Asia.
Gospel for Asia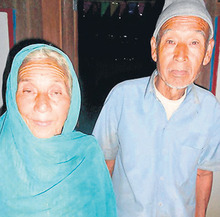 Here is Jai's story. 'I was dreadfully stunned when my wife, then 62 years old, told me she became a Christian. I warned her hundreds of times not to go to her sister's home, not to attend fellowship and not to listen to anything about Jesus Christ. But regardless of my words of warning, she believed in Jesus Christ as her Saviour. I found myself like Goliath, who was terribly defeated by David, a young lad.