Hospitality sweet
This screen version of Michael Bond's classic children's story of the marmalade eating, well-mannered, talking bear from darkest Peru who comes to live with the Brown family in London is a family feel-good movie par excellence.
JEB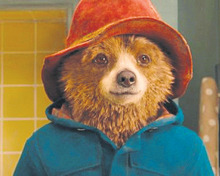 PADDINGTON
Director: Paul King;
95 minutes; Cert PG
Well-beloved characters (like Mr Gruber) and plot lines (like flooding the house) are woven into a tale which remains faithful to the original idea while becoming an extra-vanganza of adventure in our contemporary capital city. The slapstick is pleasing and the dialogue is sharp.
Bears are welcome
Three themes in the film took my eye. First, Mr Brown (Hugh Bonneville) begins as very much a risk manager father – well-meaning but stifling – but develops into the hero of his wife (Sally Hawkins) and children as he rises to embrace Paddington and the danger he brings. Second, a wicked Cruella Deville-type scientist, based at the Natural History Museum, poses the biggest threat to Paddington. Science is thus shown to have its bad side as well as it's good – not a message children often hear in these days of Brian Cox & Co. Third, there is a joyous celebration of welcome to strangers and the best side of the inclusivity of London as a multi-racial, multi-cultural community. Even bears are welcome – eventually.
Philoxenia (hospitality) (as opposed to xenophobia) is very much a New Testament word. Buy up your Seville oranges while you still can. This is set to be a deservedly popular movie and I suspect there will be an immense increase in families making marmalade this January.