Sir Fred Catherwood 1925 – 2014
An evangelical giant who was passionate about politics and the growth of God's Kingdom
Julia Cameron / JEB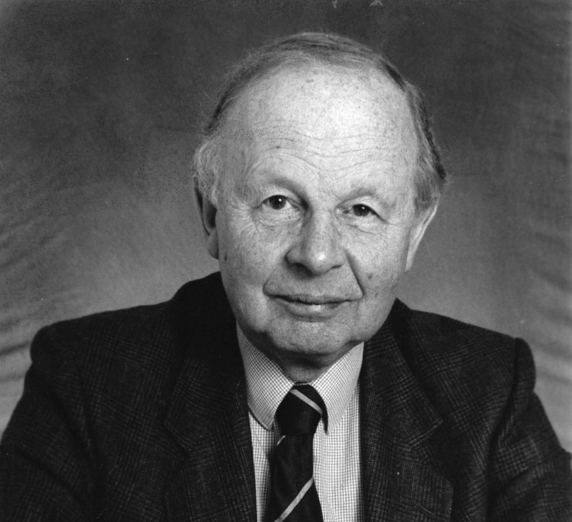 Sir Fred Catherwood, along with people like his father-in-law Dr Martyn Lloyd-Jones and John Stott, shaped the course of post-war evangelicalism in Britain.
Fred Catherwood was a man of immense accomplishments, fairly minor among which was the founding of this newspaper. In 1986 he encouraged Bob Horn to start Evangelicals Now. The initial meeting of its backers took place at the Oxford & Cambridge Club in London and Sir Fred chaired its board from its inception until 2007. It was a venture close to his heart, as he wanted to see an informed newspaper with evangelical breadth.
Northern Ireland
Henry Frederick Ross Catherwood was born on 30 January 1925 in Lough Neagh, Castledawson, Northern Ireland, the son of Stuart and Jean (née Agnew), staunch members of the Brethren. His family moved to Belfast when he was six months old. Stuart Catherwood soon founded a successful bus business which would mimic the main rail routes: Belfast to Londonderry, Belfast to Dublin; Dublin to Cork, winning over passengers from the railways. Sir Fred wrote in the Cutting Edge his autobiography At (Hodder and Stoughton 1995) that he was 'immensely proud' of the coach fleet with its Cambridge blue livery and 'HMS Catherwood' (standing for Harold Matthew Stuart) painted on the side. Its financial success led to the ire of rail chiefs and in 1935 the buses were eventually nationalised. Needing a new venture, Stuart Catherwood purchased Rosapenna Hotel which attracted society guests. It also housed the family.
Student days and London
Sir Fred was educated at Kingsmead School, Wirral, then Shrewsbury, before going up to Clare College, Cambridge in 1943 to read History, later changing to Law. He rowed for the university trial eights but at ten stone was too light to qualify for the Cambridge boat. He stroked the Clare first eight in the Lent Races in 1945. A clear Christian, he served as both President and Vice President of the Cambridge Inter-Collegiate Christian Union (CICCU) and was an officer at Iwerne camps, which drew boys from the top public schools; here he worked to assist John Stott who was then Camps Secretary.
Fred joined Messrs Price Waterhouse in September 1946 and described the culture shock of the City as 'profound'. Articled to one of 12 partners, he said he never saw his boss, who wrote only curt covering notes when asked for his signature on examination forms for accountancy. In London, Fred attended Westminster Chapel, where he was deeply affected by the ministry of Dr Martyn Lloyd-Jones, whose daughter Elizabeth he married in 1954.
CEO and Bible studies
Aged only 29 he became Secretary/ Controller and later Chief Executive for the construction and civil engineering group Costain. Two-thirds of Costain's work was overseas. Here Fred Catherwood asked sharp questions and developed an instinct for seeing past enticing invitations to tender. He secured profitable deals. Here is one story from his Costain days that he loved to tell. In the late 1950s an agent approached them, claiming to be from President Batista of Cuba. The President wanted to spend $10m on a new palace, and ten percent would get Costain the contract. Fred said it should be ignored. 'The man might not be from the President; if he were, the President might not have $10m and would want us to find it. And even if he did have it, the idea of a grand new palace might simply be megalomania, signalling an imminent coup d'etat.' Sure enough, shortly afterwards Batista was overthrown by Castro.
From 1955-1980 Sir Fred led a Socraticstyle discussion at Westminster Chapel each Sunday afternoon. He prepared hard, then just asked questions and more questions to get group members to think for themselves, and reason from scriptural principles. No-one was allowed simply to quote an authority as an answer. If they espoused a view, they needed to defend it as their own. This Sunday afternoon group became a major commitment for 25 years. Despite his pressures, and his rising seniority in public life, he never missed, apart from when on holiday.
Government Advisor
In 1963 Fred joined the Northern Ireland Development Council, then chaired by Lord Chandos, and in 1964 became Chief Industrial Advisor to Harold Wilson's new Labour Government. In 1966 this led to his appointment as Director General of the National Economic Development Council (NEDC, nick-named Neddy). It was in this year that his most influential book, The Christian in Industrial Society (IVP) was published. It became a seminal work, and sold some 30,000 copies. Despite the demands of high-profile public life, Sir Fred remained fearless in standing as a Christian. He was knighted in 1971. He went on to occupy a number of positions including Chief Executive of John Laing and, from 1974-1976, Chair of the British Institute of Management. During these years he played a significant role in the campaign over membership of the European Economic Community (later the European Union). In 1979 he was elected Member of the European Parliament for Cambridgeshire, later serving as its Vice President. From the mid-1980s he was much involved in attempts to broker a peace in Northern Ireland.
Sutton Hall, near Cambridge
The Rosapenna hotel burned down in 1962. Fred and Elizabeth realized they needed another place to retreat to in the country and it was two years later, in 1964, that they purchased Sutton Hall, Balsham. Its two acres had to be cleared of brambles and much repair work was needed for the house. This provided a haven while in public life.
Martyn and Bethan Lloyd-Jones spent all their holidays there, and ML-J edited most of his books there. Fred Catherwood recalled that his three children, Christopher, Bethan and Jonathan, would sit around the big kitchen table with their grandfather, talking and arguing as 'young cubs with old lion, venturing where no-one else would dare'.
Sir Fred served as an elder at Eden Baptist Church, Cambridge, for over ten years, up to 1995, helping to guide the rebuilding of the chapel, and providing much support over its painful time resulting in a leadership transition. The Catherwoods often invited parties from Eden to Balsham; its youth group would play hide-and-seek in the house.
Cambridge and students
The Catherwoods maintained close contact with CICCU, year by year inviting its student executive committee to meet in their home.
For more than 40 years, from 1961, Sir Fred held senior office in the International Fellowship of Evangelical Students (IFES) and in the Universities and Colleges Christian Fellowship (UCCF). As Chair of the UCCF Graduates Committee (1963-1966), he worked alongside its Universities Secretary, Oliver Barclay, a friend since Cambridge days. His early years on the UCCF Council were under the chairmanship of Prof. Sir Norman Anderson. Sir Fred assumed the Chair 1972-1977. He was known as a man of immense energy and efficiency. When chairing a meeting he knew when to call an end to discussion, sum up its substance, and if needed, take a vote.
From 1974-1986 Fred and Elizabeth hosted IFES house-parties at Schloss Mittersill, in the Austrian Alps, and from 1991 also hosted the IFES Graduates' Conference. Each of these gatherings would draw participants from East and West. These conferences proved of particular importance as Eastern Europe began to open up. Fred reflected after the IFES World Assembly in 2003 that it had been 'hard to hold back the tears' as he saw nation after nation coming to the stage in the Opening Ceremony. Martyn Lloyd-Jones had been founding Chair of IFES in 1947 with just ten national movements. There is now work in some 160 nations.
From 1992-2001 Sir Fred was President of the UK Evangelical Alliance, urging the church in post-Thatcherite Britain to remember its social conscience and return to active engagement on behalf of the socially deprived.
Both Fred and Elizabeth were known for their sheer clarity of thought and their commitment to working from biblical principle and then drawing out application. On hearing the news of Sir Fred's passing on Sunday, 30 November, one friend texted the editor: 'he will receive a great welcome in heaven.'