Scotland: Holyrood reborn
The first services of Holyrood Evangelical Church (HEC) were held on 5 October.
Euan Dodds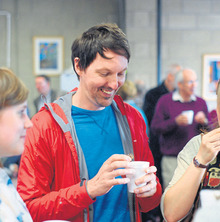 The set-up and music teams arrived at Leith Academy at 9am to rehearse and have the newly purchased equipment in place. At 11am the theatre was filled with the congregation, numerous well-wishers and a group of 20 American visitors accompanying Professor Doug Kelly, a longstanding friend of the fellowship. The newly called minister, Phil Hair, welcomed those present before the opening hymn, 'Praise to the Lord the Almighty the King of Creation' broke forth. Andy Scott, one of the trustees of the new church, explained something of the journey so far before George Sydserff, one of the senior elders, assembled and prayed for the ministry team.