Clothing the naked in Iraq
A lorry has arrived in the city of Dohuk, Northern Iraq carrying 85 cubic metres of winter clothing, shoes, blankets and sleeping bags, donated by UK residents to some of the 1.9 million people that have been displaced in Iraq since January 2014.
Samara Levy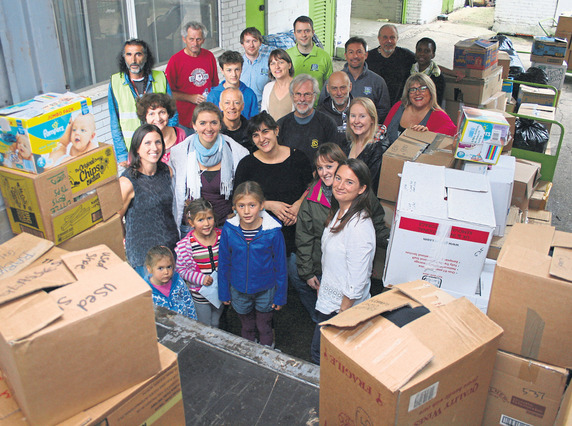 Many of these fled with little more than the clothes on their backs. A large number are children and many are sheltering in tents and unfinished buildings which provide inadequate protection from the freezing temperatures they will experience this winter.
Mother's vision
Mother of two, Samara Levy, from St Peter's Church, Brighton saw a need last year after seeing reports of Syrian refugee children wearing inadequate summer clothing in snow-covered camps. After seeing a picture this summer of a baby that had been beheaded by Islamic State (IS), she realised these people were fleeing one horror only to be confronted by another.
'Surviving freezing temperatures in a tent with young children and having no clothes or shoes to give them is unimaginable. Many of these people are in this situation for standing firm in the faith we share with them and they desperately need our help.'
Community project
What started as one mother's vision to send warm clothes to children in desperate need rapidly grew into a large-scale community project in Brighton with hundreds of people involved. Many schools, churches and individuals have organised clothing collections, and dozens of volunteers have helped with sorting and packing the mountain of donations.
'When I first looked into sending a lorry of clothing to the Middle East it seemed too complicated. I couldn't find any charities that were willing to help. However, I felt that God asked me to step out in faith and 'start collecting' without knowing where it was going, how it was getting there or who would receive it. I felt an assurance that if I took that step of faith and started collecting, the right doors would open, at the right times to make this work. Every part of this project has received more than we prayed for, more money and more clothing, and we were able to send the lorry off more than two weeks ahead of schedule. It has been such a privilege to be part of this.'
Surviving the winter
Father Emanuel, founder of CAPNI (Christian Aid Program Northern Iraq) who are distributing this aid, tells us: 'These winter clothes and shoes will be distributed by our teams with a message of love. We have been distributing food baskets, but the people need more. Many will not survive this winter, and we ask you to pray for us for dignity and peace'.
UN Humanitarian Co-ordinator in Iraq, Jacqueline Badcock, stated in a report published on 4 November that 'Warm winter clothes and shoes for a minimum of 450,000 including 225,000 children are urgently needed'.
Second lorry
Samara is now organising a second lorry which she wants to arrive before Christmas to take winter clothes and shoes to the gover-nate of Dohuk which is hosting 24% of the country's IDP's.
'It is not just down to the governments and aid organisations to provide for these people' says Samara 'As Christians, we also need to step up to our call to help our brothers and sisters who are suffering. Every medium or large church in the UK could organise something like this. It is my hope that other people in the UK will feel encouraged do something similar as there are millions in desperate need across the Middle East this winter.'
You can join in
Samara is now appealing to other churches, communities and individuals to take action and organise winter clothes appeals for the people of Iraq and Syria. Please contact her for more information on how you can play a part in sending aid. Email: samara_abdel noor@hotmail.com or call 07960 937 716. www.facebook.com/winterclothesappeal