Interview with Meriam Ibrahim
The Sudanese mother who was sentenced to hang for refusing to give up her Christian faith, spoke in September for the first time about her ordeal, saying she never once considered giving in and that she made her stand on behalf of all those facing persecution around the world because of their religious beliefs.
Bible Society; The Independent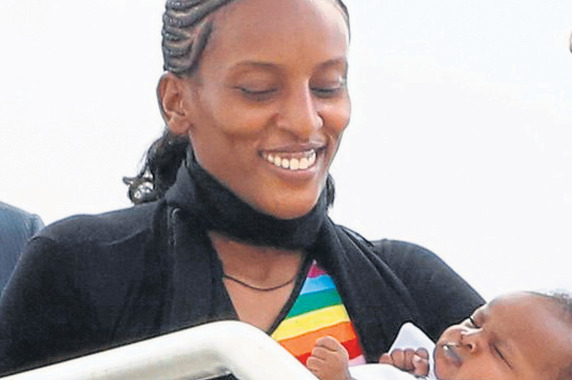 Nearly two months after finally being allowed to flee her native country and taking refuge in the United States, Meriam Yahya Ibrahim, 27, said she had been subjected to intense daily pressure while in prison to accept conversion to Islam, but that she consistently refused to give in to her captors' demands.
Right to choose
'If I did that, it would mean that I gave up', she said in the first interview given to a US television channel. 'It's my right to follow the religion of my choice. I am not the only one suffering from this problem. I put my life at risk for the women of Sudan and for Christians who live under difficult circumstances, persecuted and treated harshly. There are many Meriams in Sudan and throughout the world.'
Ms Ibrahim, a Christian, revealed that following her arrest last year on charges of apostasy – abandoning Islam – she had been given three days by the authorities in Khartoum to succumb and reconvert, and that she had refused.
'I would never leave my faith. If you don't have your faith, then you are not alive.'
Outcry
There was an international outcry when a court in Khartoum subsequently sentenced her to 100 lashes and death by hanging. A campaign for her release begun by Amnesty International won the support of world leaders, including David Cameron.
Pregnant at the time of her sentencing, she was refused access to proper medical care for the baby's birth. 'I was supposed to give birth at a hospital outside of prison, but they denied that request as well', she said. 'When it was time to give birth, they refused to remove the chains from my ankles. So I had to give birth with chains on my ankles.'
Pressure to convert to Islam
Meanwhile, the attempts to force her to convert were relentless, she revealed. 'While I was in prison, some people came to visit me from the Muslim Scholars Association', she said. 'These were imams that created an intervention by reciting parts of the Qur'an for me. I faced a tremendous amount of pressure.'
Under Sudan's strict Islamic penal code women are forbidden from switching faiths. It also states that a woman's faith is determined by that of her father. Ms Ibrahim, a graduate of Sudan University's school of medicine, was indeed born to a Muslim father. However, her mother was Christian and she insisted at her trial that she had been raised from birth as a Christian.
In 2011 she had married her husband, Daniel Wani, a Christian from southern Sudan who also had American citizenship. He had taken up residence in Manchester, New Hampshire, where the couple and their two children – one born before her ordeal – are living today.
Ms Ibrahim was released in June after Sudan's highest court overturned her death penalty. But she and her family were forced to seek refuge in the US embassy in Khartoum after the Sudanese government refused to allow her to leave the country.
Better than prison
Living in Manchester, a city with many Sudanese refugees, seemingly has challenges of its own, however. 'I still don't have a stable life but it's better than prison', Ms Ibrahim said.