Home service
As a parent, director of children's ministry in our local church, publisher and trainer in children's ministry, I picked up this book with great eagerness.
Rory Bell,

is Director of TnT Ministries. He is also an elder at Cornerstone Church, Kingston-upon-Thames and author of Mustard Seeds Bible teaching resources www.mustard-seeds.net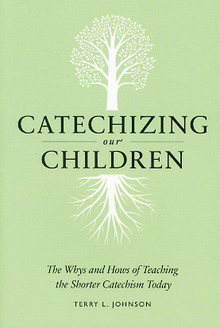 CATECHIZING OUR CHILDREN:
The whys and hows of teaching the Shorter
Catechism today
By Terry L Johnson
Banner of Truth. 87 pages. £6.05
ISBN 978 1 848 713 000
One family in our church has also recently started using a similar catechism with their children and I have seen the benefits of their efforts spilling over on Sunday mornings. Every so often there is an eruption of profound theological truth from these children and it's simply heart-warming.
Although I am not new to the Westminster Shorter Catechism, I did find the concise and well-ordered history to be a good refresher. It would certainly also make for an excellent introduction for those unfamiliar with this important theological work.
Johnson helpfully breaks down the content of the Shorter Catechism and does well to show its logical progression and the theological significance of the various parts. He does this in a concise and practical way.
How and why
But you will need to read through 61 pages of 'Why' before getting to the ten pages of 'How'. Disappointingly, the 'How' section is nothing more than a summary of the programme run at the author's church over the past 15 years. This leans very heavily on a church-based catechetical programme that relies on ordained 'professionals' to instruct the children. So for any parent who picks up this book hoping to actually implement this programme at home, there will be little practical guidance. Instead, they will feel the weight of the onerous task of convincing an entire church to get onboard.
Partners with parents?
While I am convinced that the local church should partner with parents in training children in the fear and knowledge of the Lord, the home ought to be the place of primary instruction. The author makes a good case for this at the beginning of the book, but the suggested programme seems to betray this. More thought needs to be given as to how to practically help and equip parents to fulfill their God-given role in the home, day by day.