Light on gay marriage
The U.S. Supreme Court has just decided to not decide on gay marriage.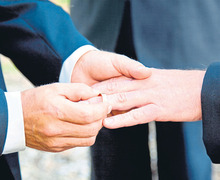 As anticlimactic as a non-decision decision is, this was nonetheless of great significance. Effectively, the Supreme Court has legitimated the decisions of States to allow gay marriage by refusing to intervene (one way or another). Commentators have wondered whether this was motivated so as not to be tarnished with a Roe v. Wade like stigma which the Court has carried ever since its decision on abortion in the eyes of the conservatives.