USA: Driscoll's ministry suspended
Megachurch pastor Mark Driscoll announced to his Seattle-based congregation, via a pre-recorded message in late August, that he is taking a six-week leave of absence from his position as lead pastor of Mars Hill Church while various charges against him were formally investigated. Driscoll said he would take the time to seek council about the next season of his life.
Religion Today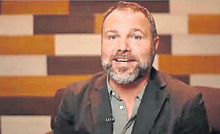 Driscoll, along with Mike Gunn and Leif Moi, planted the church in 1996. Mars Hill grew to more than 13,000 people and stretched across 15 locations in five states: Washington, Oregon, California, New Mexico and Arizona. Attendance has slumped over recent weeks to between 8-9000, and the church has announced the closure of at least three of its locations, and staff cuts of 30-40%. This leave of absence has come after a series of events which found Driscoll being confronted with significant questions about his character and leadership.