John Stott's right hand
Frances Whitehead was John Stott's secretary and played a crucial role in his life. EN carries a slice of her upcoming biography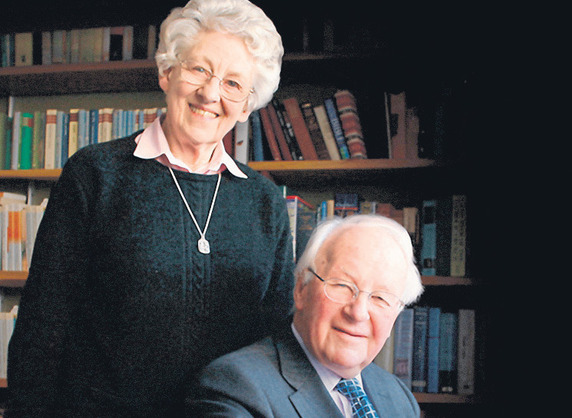 The staffing for John Stott's global operation was modest, as was its office space.
Frances operated from a small office on the ground floor; Stott from his study-cum-sitting-room, on the second floor, in a flat built above the garage at the back of the Rectory. His small bedroom below doubled as a corridor for visitors, who would have to walk through it; and as an office for the study assistant, who had a desk – rescued from a skip – in one corner.
An engraving of Charles Simeon, striding through Cambridge with his umbrella under his arm, hung on the staircase. Simeon had become John Stott's mentor as an expositor, and in recognition of that, John stated in his Will that he wanted the words of Simeon's memorial plaque to be used in due course on his own headstone. Simeon referred to his team of two curates as the 'happy triumvirate'. It was this term, gender notwithstanding, that John began to use for himself, Frances and the rolling list of study assistants.
Monday morning
Each Monday morning, the happy triumvirate would meet for breakfast in John's flat. As well as catching up and praying for the week ahead, this would be the opportunity for John to share new ideas. Frances could recollect no occasion when anything was pushed through without prior discussion. John knew everything would depend on his team and would never move ahead without first making sure he had consensus in a happy, and not coerced, triumvirate.
Frances brought a keen eye for detail, and an instinctive sense of how much work would be needed behind the scenes to achieve each stage. She could sometimes voice caution, but never impede. The whole triumvirate – its effectiveness and indeed its happiness – was oiled on willing spirits. This was the context in which many a project began. Once the core team was on board, John would discuss ideas with a few others.
Of the three, Frances had the best information about other time-commitments, and was best-placed to calibrate how a new plan could be integrated and made to work. Many an evangelical venture goes no further than the Minutes of a meeting and the good intentions of those whose initials appear in the Action column. This is inevitable to an extent in understaffed mission agencies. The happy triumvirate however, while lean to the bone in staffing, would remain in clear control of what they took on. Matthew Smith (study assistant 2002-2005) recalled how Uncle John used to joke that his study assistant was sometimes right, he was mostly right, and Frances was always right.
Indefinable
Frances's roles were not always easy to define; in addition to handling John Stott's correspondence, fielding his calls and keeping his diary, she would also be a listening ear for the study assistants if they needed counsel, and if required, an advocate for them, as she knew John trusted her judgment.
One of the early study assistants, looking back nearly 30 years, recalled the way Frances 'combined diligence and availability in a way few have mastered'. He continues: 'She never gave the impression of being too busy to help. The only exception is one occasion I recall to my horror. As a single, insensitive 25-year old who should have known better, I noticed that a button on my new Harris Tweed jacket was coming loose so I asked if she would sew it on. (I half think this may have been the second offence – having been emboldened by earlier help: I have repressed the details.) I do vividly recall that she asked if the request was 'fair'. It was a rhetorical question and I was smart enough to supply the answer quickly.'
New name
While the study assistants helped Stott with his research, and acted as Aides de Camp when he was travelling, their roles in Weymouth Street were as varied as Frances's. They would help him entertain small groups in his flat; dive into archive libraries to track down quotes for his writing; and shop for him in Oxford Street if he needed new clothes to complete his modest wardrobe. Their first encounters with Frances Whitehead tended to leave lasting impressions. John Yates III recalled his own first experience of Frances in 1996: 'On my very first day in the office at 12 Weymouth Street I was given a new name. There I was, just 21 years old, enormously jet-lagged from my flight the previous day and thoroughly overwhelmed by the sheer energy of London. It was 9.30am and I had reported for duty before the desk of the singular Frances Whitehead'.
'Now John,' she said in such a way that intimated slight disapproval. 'It is going to be altogether too confusing round here with two Johns in the office! I wonder, do you have any other names? She spoke so quickly and with such authority that I was torn between my need to process what she had said, and the clear expectation of an immediate reply.'
'Well', I stammered, 'when I was in college I had a nickname. A few of my close friends called me JY.' 'Right then,' she replied, 'JY it is!'
During four wonderful years in London I was JY to everyone I met. Many folks never learned my proper name – Frances simply would not have it! And now, whenever I hear myself referred to as JY, I grin, inwardly remembering that delightful moment in which I was re-christened by her ladyship herself, Frances Whitehead!'
Then capturing a fuller picture of 'her ladyship', he added: 'How 12 Weymouth Street and The Hookses [Stott's writing retreat in Wales] rang with Frances's joyful laughter! She could intimidate the socks off any pushy American in an effort to protect Uncle John, but when the happy triumvirate was alone in the office, or with close friends down at The Hookses, Frances's ready, full-throated, head-tilting laugh was always just a moment away. I once heard a Presbyterian pastor, Earl Palmer, say, "the higher your Christology, the better your sense of humour". Frances, in company with Uncle John, proved the truth of this statement'.
Time mattered
John Stott used time as efficiently as he was able. He planned his year; planned his weeks; planned his days. So while he needed Frances and the study assistant to work to protect his time, it was to press it into service. He had no sense of self-importance. Indeed when Frances had earlier worked from the Drawing Room, he would frequently empty her rubbish bin, to save her carrying it down to the basement. This was a small symbolic act of his wider desire to serve. And at student conferences he would stand in line in the food queue with the students.
At the 2003 IFES World Assembly in the Netherlands, a student checking ID at the dining hall one lunchtime was confronted with a problem. A white-haired gentleman, by this stage 82 years old, wanted to enter without his name badge. Rules were rules. No-one could enter without ID. Uncle John, recognizing the student's Teutonic background and youthful inexperience, stood aside. As various staff arriving for lunch guessed straight away what had happened, and offered advocacy, John shook his head with a grin and made a small waiving gesture with his hand. Matthew Smith, his study assistant, was in the meantime running to collect the missing lanyard.
Over-protective?
Protecting John Stott's time was not straightforward. As to be expected, there were those who found Frances over-protective, and did not understand why John was not accessible. But when John said he could not take any calls, she understood why.
His articles, as indeed his books, were written in longhand. For there to be a lucid flow of thought, with structured arguments and clarity of expression; and for them to read, in the words of many a reviewer, as 'vintage Stott', with alliteration and with carefully-chosen illustration, the crafting of each paragraph would count. This demands deep concentration, especially without a keyboard and the continual progression of edits which become second-nature to most writers.
John Stott's output determined the pace for Frances Whitehead, and it was relentless. Frances, talking with Toby Howarth (study assistant 1986-88), once described her work in terms of driving down a narrow London street in a Mini, with a fire engine, lights flashing and siren wailing, speeding behind her. Toby said, in that case, he felt as if he were on a bicycle, in front of both of them!