Who is against revival?
The week of June 21-28 was distinctly summery and the nearby beaches were well frequented in the free periods as the 15th WEST revival conference took place.
Kerry Orchard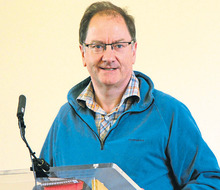 The principal of the Highland Theological College, Hector Morrison, brought his special brand of biblically theological preaching that 'cuts across the fields to the cross', through preaching from 1 and 2 Samuel and Psalm 126. He also lectured on the revivals of his native island, Lewis. Emyr James, associate pastor of the Welsh Evangelical Church, Cardiff, made light of preaching each morning from Leviticus and took us from the shadows to the glorious reality of Christ.