Having a lasting influence
There has never been a shortage of books about the Christian ministry. So, when yet another one appears, one might rightly ask, 'Why buy it?' – especially if you happen to be a minister, or student, already too busy to read the books you have.
Mark G. Johnston,

minister designate, Bethel Presbyterian Church, Cardiff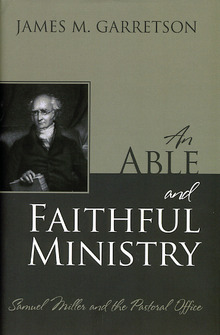 AN ABLE AND FAITHFUL MINISTRY
Samuel Miller and the pastoral office
By James M. Garretson
Reformation Heritage Books. 425 pages. £20.65
ISBN 978 1 601 782 984
And, given the propensity in our day to look for the latest ideas on ministry, why bother with the counsel of someone from the 19th century? James Garretson's work on the life and works of Samuel Miller gives good answers to both these questions.
Miller, along with Archibald Alexander, was one of the founding fathers of Princeton Theological Seminary He played a key role in laying the foundation and setting the tone for what that institution was to become during the decades that followed. Garretson introduces him to us in two biographical sections at the beginning and end of this book, interspersed with two sections providing a comprehensive overview of his teaching on what it means to be a preacher and a pastor.
Unusual approach
The genius in this rather unusual approach is to let us see the close connection between what Miller was as a Christian and what he taught about ministry. Indeed, as we follow through the excerpts gleaned by Garretson from the Princeton archives – not only from Miller's lectures and letters, but also from what was said about him by his students and colleagues – we quickly realise that his influence came as much from what he was as through what he taught.
Trust and obey
The scope of his instruction about the work of the ministry was extensive: covering everything from sermon preparation through to how a minister should conduct himself towards women in the congregation. The keynote that is sounded again and again as being the hallmark of this man's view of ministry is the fact that faithfulness to the truth of the gospel is inseparable from a life that reflects the Christ of whom that gospel speaks.
Not surprisingly, Miller's wisdom and insights are presented in the context of a culture that is very different from our own and carry something of the quaintness of that era. But that should not stand in the way of seeing how strikingly relevant this material is to the church of our day. If we are concerned about cultivating the kind of ministry that will mould the church for its lasting good, this is a book that deserves to be read.