North Korea: 33 executions ordered
North Korea has ordered the death of as many as 33 people because of their alleged contact with a missionary, South Korea's largest news organisation has reported.
World Watch Monitor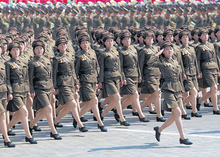 The 33 North Koreans are charged with attempting to overthrow the regime by setting up 500 underground churches. The newspaper, Chosun Ilbo, said they are accused of working with Kim Jung-wook, a South Korean arrested by North Korean authorities in October on suspicion of trying to establish underground churches.