Voice in Scottish schools
Churches will continue to have a voice on local authority education committees, after the Scottish Government, in late February, rejected a bid to end the practice.
The Christian Institute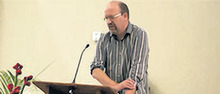 The Edinburgh Secular Society (ESS) had wanted changes to rules which require education committees to appoint representatives from religious organisations. Under the 1973 Local Government Act, three religious figures should be included, representing a range of Christian churches. The secularists' idea had faced criticism from churches who said they offer a helpful service to schools.