Kenya: Welby challenged
The Anglican Archbishop of Kenya has delivered a challenging response to the statement by the Archbishops of Canterbury and York, in which they criticised legislation in Nigeria and Uganda prohibiting same-sex unions.
Christian Concern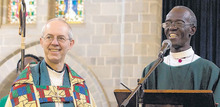 The Most Rev. Dr. Eliud Wabukala said that the advice from the archbishops to show more care towards homosexual people 'cannot be separated from the whole fabric of biblical moral teaching in which the nature of marriage and family occupy a central place'.