God loves lawyers too!
In late January 50 or so law students and young lawyers attended the annual Lawyers' Christian Fellowship (LCF) weekend in rural Shropshire to think through living for Christ in the legal world.
Ed Veale,

St. Nicholas' Church Tooting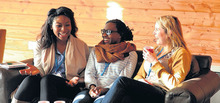 David Turner QC, a Circuit Judge and Reader at All Souls Church Langham Place, showed from the story of Joseph wonderful truths about the God who works in spite of us, who is always with us, and whose purposes never fail.