South Sudan: keep calm, don't make this tribal
The headline gives the gist of a united message the leaders of the churches in South Sudan sent out this Christmas to their congregations and to the nation's politicians in response to the conflict that has recently arisen in this the world's youngest and pre-dominately Christian country.
Simon Percy,

Director of Ministry, Pastor Training International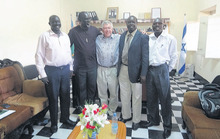 On the July 9, 2011 The Republic of South Sudan came into existence. Until then the citizens of that country had either lived abroad or as a part of the Islamic State of Sudan.