Libya: shari'a on its way
Libya's national assembly voted on December 4 to make shari'a the source of all legislation in the country as militant Islamists grow in influence.
Barnabas Fund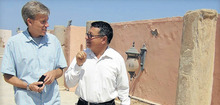 The General National Congress (GNC) made the move in what has been viewed as an effort to outflank extremists. One of the most prominent militant groups is Ansar al-Sharia, which is suspected of carrying out the attack on the US consulate in which US ambassador Christopher Stevens and three other Americans were killed in September 2012. They have accused some lawmakers of being un-Islamic.