3 now not a crowd?
Polyamory – intimate relationships between three or more people at the same time – 'is quite normal already, it's just not out of the closet yet', said the stars of a US reality TV show in early December.
The Christian Institute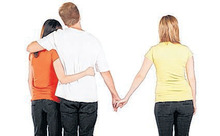 Michael McClure and Kamala Devi are starring in Polyamory: Married and Dating, and are currently living with McClure's girlfriend Rachel. 'They're spreading the gospel of polyamory, hoping to speed up societal acceptance of this kind of set-up', ABC's Nick Watt explained.