Mexico: beatings ordered
In November, traditionalist Catholics abducted, jailed and beat a group of evangelical Christians with rods and stones in Oaxaca on orders from the head of a municipality, according to human rights officials.
Morning Star News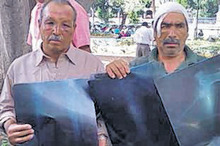 A mob sent by San Juan Ozolotepec President Pedro Cruz Gonzalez on November 4 attacked the Christians for declining to participate in and help pay for traditionalist Catholic festivals and for protesting their previous mistreatment. The mob attacked the Christian's unfinished church structure with sledgehammers and pick-axes, and four of the Christians were jailed from November 5-8, according to the National Commission on Human Rights (NCHR).