China: 'church can help'
The Chinese government has welcomed the role of the church in providing social care in the country.
World Watch Monitor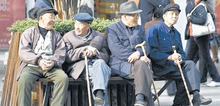 China's leaders held meetings in mid-November in Beijing to discuss the economic and political agenda for the next decade, in which it seems the church will play a vital role. Though it is the world's second biggest economy, China is facing a social care crisis, particularly in caring for an increasingly elderly population.