CHURCH — BORN AGAIN!
A church plant that almost failed has taken off and goes independent in January.
Billy, Justine, Gill, Emma, Gary, John, Maggie, Amy are just a few of the many who have come to faith over the past six years at Shepherd Drive Baptist Church on the Chantry and Pinewood estates in Ipswich. If you have never been to the 'far east', Ipswich is a historic sea port on the river Orwell with a couple of large marinas full of posh yachts. Now just over an hour from Liverpool Street station in the City of London, it is also a rapidly growing commuter town.
Malcolm MacGregor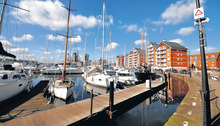 Making a mark for God
Situated at a key point on this expanding housing development, the church is starting to make a real mark for God among the many young families who live round about. It was, however, back in the 1970s that a Christian nurse living on the estate first felt a burden to reach the local children with the gospel. In due time this led to a church plant, which, in spite of sincere efforts and a good building, never really impacted the area as it might have. After a closure of around three years, the fellowship was re-launched in 2007 with a specific aim of reaching the un-churched.