Egypt: faithful in adversity
On August 14, the violence of the Muslim Brotherhood targeted the Christian community in Egypt (churches and property owned by Christians) as well as police stations.
Pastor Gadalla Tiab,

Arabic Community Church, Hove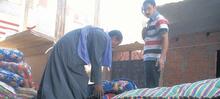 Many churches and church premises were attacked and set on fire, many Christian shops were broken into and looted. It was a reaction against the attempts of the Egyptian military to end the sit-ins and other public demonstrations ongoing in Cairo for six weeks. Hundreds were killed and thousands injured in attacks all across the country.