Bolivia: new law unconstitutional
Protestant church leaders in Bolivia are trying to revoke a new law that they say aims to 'impose contrary beliefs' and 'denies us the right to be a church'.
Morning Star News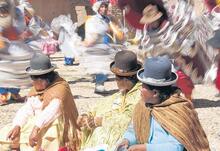 Asserting that Law 351 is unconstitutional, the National Association of Evangelicals of Bolivia (ANDEB) filed suit at the end of August before the Plurinational Legislative Assembly, demanding that it be revoked. Christian leaders argue that its re-registration requirements restrict the 'rights and religious freedoms of churches'.