Ministry women equipped
There is one conversation that is repeated often; it is the one about what women can't do in ministry.
Karen Soole,

chair of the Northern Women's Convention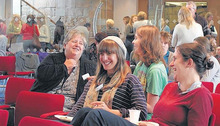 Media hostility has increased towards those who believe the Bible teaches comple-mentarianism, because restricting church leadership to men is considered unjust. The underlying implication is that women who teach women are inferior and succumbing to the second best option. With this in mind, the North West Gospel Partnership decided that the time had come to encourage women in the ministries that they can do.