Loving technology & Jesus
Over the weekend of Friday 19 – Saturday 20 October, 120 participants from across the UK and beyond gathered at St John's, Hoxton, to build technology for God's glory, at Kingdom Code: BUILD.
Calvin Peat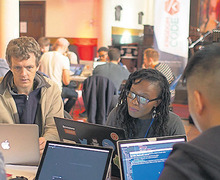 This year's event, now in its fourth year, partnered with Bible Society and Stewardship. 23 projects were explored, tackling the challenges of how to use technology to increase engagement with the Bible and to encourage people in their generosity.