India: pastor found dead
The body of a pastor was found hanging from the roof of his house in late January, a week after he complained to police about opposition from Hindu extremists.
Morning Star News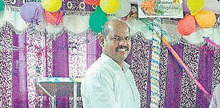 Congregation members found Gideon Periyaswamy hanging in his one-room house. It looked as if others had placed him in the noose after his death, due to the way his body hung.