Australia: debating the national day
January 26 represents Australia's national day. It marks the day when the first fleet of settlers and convicts arrived from Britain to Sydney Cove to establish a permanent settlement. It first became a public holiday in 1818, but it was not until 1946 that Australia Day was accepted and recognised in all Australian states and territories.
Peter Riddell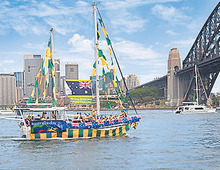 Australia Day is now a time of national celebration. Public festivals are held at both unofficial and official levels. Speeches are given by politicians and social leaders, and it is a favourite day for holding citizenship ceremonies to welcome new members of Australia's culturally diverse community.