Gambia: positive signs
There are encouraging signs that Gambia's new president, Adama Barrow, may ease the pressure on Christians in the West African country, following years of creeping Islamisation, it was reported in late January.
Barnabas Fund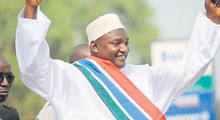 Gambia's previous president and de facto dictator, Yahya Jammeh, who seized power in a coup in 1994, had increasingly promoted an Islamist agenda. In 2015, Jammeh declared that Gambia was an Islamic republic. The declaration was presented as a move away from the country's British colonial past, but also signalled a renewed effort to increase the role of Islam in a country which has a secular constitution and has historically had a tradition of religious tolerance.