Ethiopia: teens released
Four Ethiopian teenagers given a one-month jail sentence for distributing Christian literature are reported to be in 'good health' following their release from prison in late 2016.
World Watch Monitor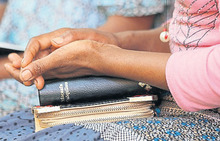 The girls were found guilty of 'inciting religious violence' and started their sentence on 25 November, despite three of them being minors. Gifti,14, Mihiret,14, Eden, 15, and Deborah, 18, served their time in a large prison in Gelemiso, alongside criminals. The girls were distributing a book in the eastern Ethiopian town of Babile, not far from Harar – a city recognised by UNESCO as the fourth holy city of Islam – when they were first arrested.